Yucca Donahue, a May graduate of Milwaukee Area Technical College's early childhood education associate degree program, often raced home after evening classes, excited to make immediate updates and improvements to the child care center she runs from her home. She was often too excited to sleep before she made changes. Her enthusiasm and drive has led to some very late nights, but she said she does not mind because she is devoted to sharing her knowledge and abilities with the children entrusted in her care and with their parents.
"I learned a lot in my early childhood education courses at MATC," Donahue said. "My child care center is better and I'm better able to help my families because of what I learned."
The owner of Above and Beyond Academy in Milwaukee, Donahue is licensed to care for up to eight children from six weeks through twelve years of age. She started her own child care center in 2008, after working at other centers and taking 4Cs child care training.

Attending college took self-confidence Donahue did not possess straight out of high school. In 2001, she enrolled in an MATC course and attended one class. She felt overwhelmed and dropped out. Years later, after using Bible verses taped to her mirror to encourage herself, her faith in her abilities grew. She took online classes from Northeast Technical College in 2012, and eventually enrolled in MATC's online classes.
MATC Helped Donahue Gain Self-Confidence
"I was shy, so I thought it was easier to take online classes," she said. "But when I finally started taking face-to-face classes at MATC in 2014, I felt a little cheated that I missed out on some of the relationships others had with classmates and instructors. My experiences at MATC have helped me come out of my shell and given me more confidence in my abilities."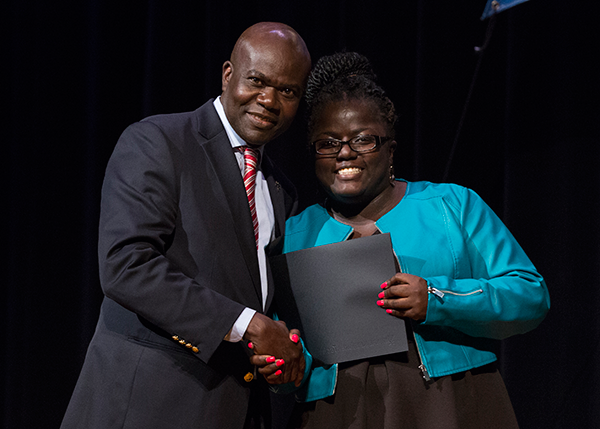 David Espinoza, an MATC early childhood instructor, describes Donahue as an inspiring student. "She was determined to be a success and role model for her daughter and those around her, so she pressed through every obstacle and problem she encountered," he said. "Some days, she wanted to give up, but she continued working towards her goal." 
Failure is Not an Option 
Espinoza cited the example of the morning she had an electrical fire in her home, which also houses her child care center. "She pressed her way to her class that same night and was there on time," he said. "She refused to let anything hold her back. Early on in the process, she decided that failure was not an option and she would be an example for her daughter to look up to and admire."
I learned a lot in my early childhood education courses at MATC. My child care center is better and I'm better able to help my families because of what I learned.
Donahue graduated from the early childhood education program May 13, with a 3.75 grade point average. She was proud that Dr. John B. King, Jr., U.S. Department of Education secretary, shared her story as part of his keynote speech at MATC's Commencement.
Donahue worked 12-hour days at her child care center while taking four courses a semester. "If I'm going to do something, I'll do it right," she said. "If I believe I can produce A's, I'm going to get A's."
She strives for those same standards in running her child care center. The children she cares for come from low-income families. At times, she notices children who come to her center hungry, with inadequate clothing or sometimes even without shoes, because their parents don't have enough money to provide everything. She connects parents with social service organizations that can help them. "I want to be a resource for my parents," she said.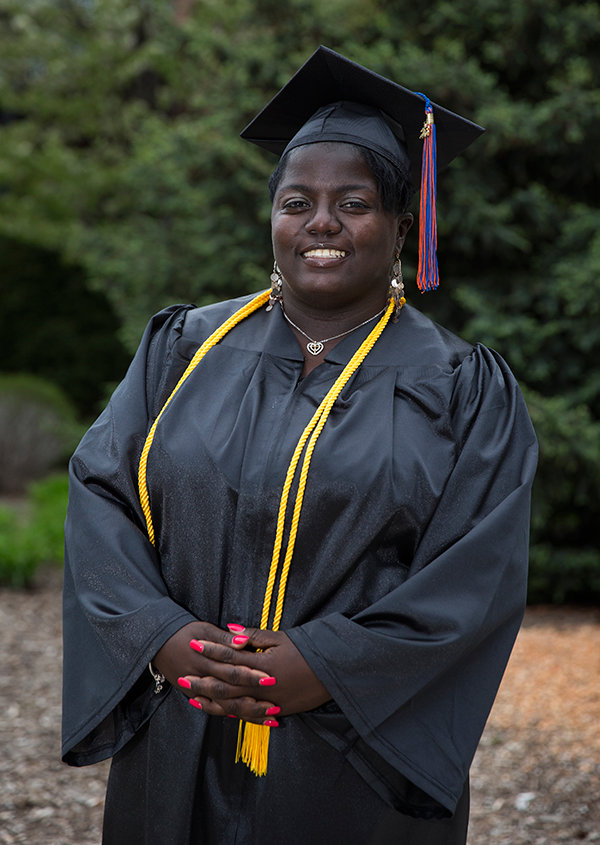 "Paying it Forward" Is a Way of Life for Donahue
Donahue also often helps the children and their families at her own expense. "If families have a need they can't meet, I want them to tell me," she said.  "If a child is hungry, I'm going to feed her. If she needs shoes so she can learn to walk, I'm going to get her shoes. They use the phrase 'pay it forward' now. But I've been 'paying it forward' for a long time. As God gives me seeds to sew into others, the more I can sew. I'm just the vessel. It's in me and for me to give what I have. God blesses me to bless others. I have no problem with giving."
She said that working with young children is a mission for her because so much child development and learning happens in the first few years of a child's life. "Maybe a baby is not getting enough attention at home," she said. "If I don't help provide extra attention in those early crucial years, they may not get it. That could affect their lives as adults." Donahue lives with her 12-year-old daughter Imani, her twin sister Yetta, and Yetta's two sons. The twin sisters are the first in their family to earn college degrees. Their mother dropped out of high school in ninth grade. She eventually earned her GED many years later, with some study help from her daughters.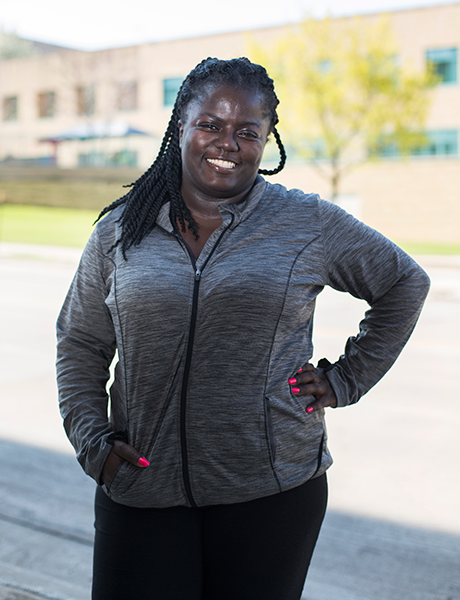 "My mom put us first, and that is why I put my daughter first," Donahue said. "Everything I do is to set an example for Imani, to be a proper role model for her and other young ladies in the family. I want my daughter to be more than I could be." 
Donahue plans to continue her education at the University of Wisconsin-Milwaukee this fall, and is hoping to earn a bachelor's degree in community education with a focus on early childhood. She is considering working toward a master's or a doctoral degree after that. Someday, she would like to open a group center with a Head Start Program.
"There is so much more I have to do," she said.
 For more information about MATC's early childhood education associate degree program, visit: http://www.matc.edu/las/degrees/early-childhood-education.cfm