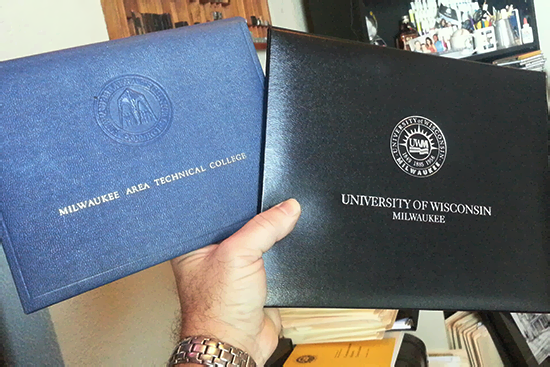 It may be natural for some students to want to take a little time off between earning one degree and pursuing another. For MATC alumnus Gordie Gohr, that "little time" spanned three decades.
Let's start back in the 1980s. Gohr enrolled in MATC after graduating from Milwaukee Lutheran High School in 1980. He attended classes full time and earned an associate degree in commercial art in 1982. Gohr achieved his high school goal of entering the advertising field as quickly as possible. He grew a career in art direction and advertising at a number of Milwaukee agencies. Gohr explained that the ability to seamlessly transfer credits from a technical college to a four-year university wasn't available to him in the 1980s. "That students have that opportunity now is fantastic," said Gohr.
"I was perfectly happy with the career I had built, which was a product of the outstanding education I received at MATC," said Gohr. "An associate degree was exactly what I needed to start my career as a production artist. But I admit, there were still some feelings of unaccomplished work I wanted to complete."
As his youngest daughter Lindsey prepared for her junior year at the University of Wisconsin-Eau Claire in 2011, Gohr decided it was time to go back to school. His wife Kimberly had graduated from the University of Wisconsin-Milwaukee; his son Josh, from the University of Wisconsin-La Crosse and daughter Andrea, from the University of Wisconsin-Stevens Point.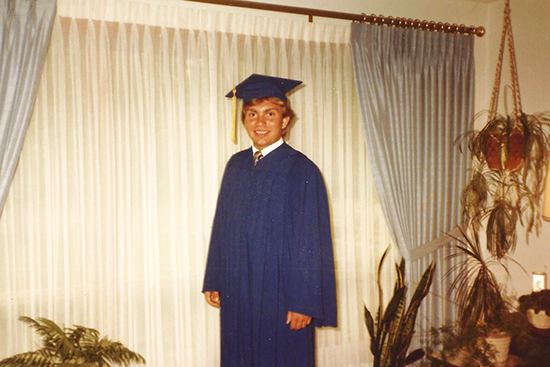 So he enrolled at UWM with the intent of earning a bachelor's degree. Of the 67 credits Gohr earned at MATC 30 years earlier, 54 transferred to his UWM program. He took classes on a part-time basis in the fall and spring, as well as during the winter and summer, and even tried his hand at online courses.
Gohr admits there were moments when he was amused by the situation. "I would see Lindsey's friends or their parents on campus at UW-Milwaukee and nod and smile at them," he said.
While it took some time to adjust to life on a college campus, there was no "pause" in his professional career. "I am fortunate to have wonderful clients (he now owns Gohr Creative Services). They were very supportive, even those who thought I was going back to school for my master's degree!"
I feel great pride that MATC's media and creative arts programs continue to be so well respected in the professional community,"
Gohr said that his classmates were supportive. "Once they saw that I really knew about theories and applications, they got over the fact that I didn't have a Facebook page. My instructors, many of whom were younger than me, were terrific too. I was moved that one instructor commented that the 'class was enriched by my presence.' That is something I will always remember."
Gohr graduated from UWM in December 2015 with honors from the Peck School of Arts with a bachelor of arts degree in studio art, with a minor in journalism, advertising and media studies.
With a bachelor's degree in hand, Gohr is poised to tackle another dream - teaching. "I knew I had to have a bachelor's degree if I wanted to teach," he said." I hope I can share what I have learned at MATC, UW-Milwaukee and in the business to help the next generation of professionals."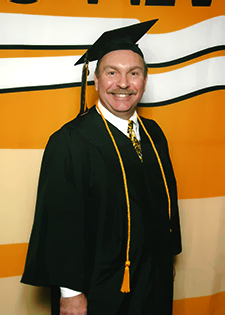 Gohr also gives back to his profession is by serving on MATC's Graphic Arts advisory committee.
"I feel great pride that MATC's media and creative arts programs continue to be so well respected in the professional community," Gohr shared. "On the advisory committee, I am surrounded by industry professionals who share real-time workplace examples with the instructors. We talk about the latest graphics technologies to be explored and the importance of the 'soft skills' that the students need to hone."
For the accomplished and respected advertising professional who returned home after his 35th high school reunion to "finish a homework assignment," earning his bachelor's degree after 33 years is an extremely satisfying accomplishment that has proven well worth the wait.