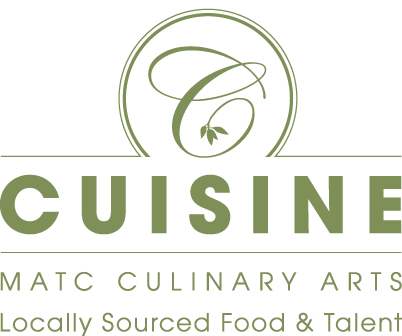 Cuisine Restaurant is a student operated advanced training facility for MATC's Culinary Arts program. The restaurant allows students to gain practical experience in a restaurant environment.  
Dear supporters of Cuisine Restaurant at MATC

Due to the uncertainty at this time and to keep our students, staff and guests safe from COVID-19, all MATC campuses will remain closed to the general public. Unfortunately, we will not be able to honor any reservations this semester. We look forward to the return of our classes later in the year and will keep you updated as to when we are able to receive reservations.

Thank you for your understanding and continued support.
Fall 2020 for the MATC College Community
Cuisine Restaurant will be open for takeout service to the college community students and staff on the following dates: Last week of Service for the first quarter.
Sept 22, 23, 24 (Tuesday-Wednesday-Thursday) 11:15 a.m. – 12:45 p.m.
How to order
Cuisine To-Go Menu
September 22 - 24, 2020
Savory
Jamaican Carrot Soup with pear relish and plantain chips $4
Shrimp Bisque, corn salsa, grilled shrimp $5
Mixed Greens with Strawberry Vinaigrette, balsamic-glazed pecans, pickled carrots and parmesan crisps $5

Duck Dumplings, with stir-fried bok choy and walnuts, sweet and sour dipping sauce $8
Pan-Seared Scallops, mushrooms, creamy polenta, beurre blanc sauce $10
Grilled Top Sirloin Steak with mushrooms and garlic-herb butter, hasselback potatoes, grilled asparagus and béarnaise sauce $10

Vegetable Lasagna, grilled zucchini, peppers and eggplant, ricotta, parmesan and mozzarella cheeses, basil pesto $9

Sweet
Crème Brule with fresh berries $5
Vanilla, Blue Moon or Espresso Ice Cream – half pints $4
Beverages
Pepsi, Diet Pepsi, Mist Twist – $2
Lemonade, Iced Tea - $2
Coffee - $ 2
Packaged Soups
Take home a frozen quart of soup prepared by our culinary students
Chicken Noodle $7
Southwest Bean and Tomato $7
Tomato Florentine $7
New England Clam Chowder $7
Cream of Broccoli $7
Cuisine Menu (pdf)