BECOMING A HISPANIC-SERVING INSTITUTION (HSI)
In the fall of 2018, Dr. Vicki J. Martin, President of MATC, established as one of the 2019-20 institutional goals to become a Hispanic-Serving Institution (HSI).  This goal is consistent with Dr. Martin's passion for educational excellence, equity and inclusion and MATC's mission of offering exceptional educational and training opportunities and services to our diverse metropolitan area to advance the quality of life for our students and community.   
This initiative also aligns with strategic regional objectives and leverages potential workforce, business, and community partnerships and resources.  It offers an educational solution to some of our community's persistent employment challenges, such as unemployment, underemployment, and skills gaps, and will lead to diversifying the regional workforce and creating economic growth.

In order to meet the definition of being designated an HSI through the U.S. Department of Education (DOE), a college or university must: 
Have at least 25 percent Hispanic undergraduate full-time equivalent student enrollment;
Be an eligible public or private non-profit institution of higher education;
Offer at least two-year academic programs that lead to a degree;
Be accredited by an agency or association recognized by the Department of Education; and 
Have a high enrollment of students in high financial need (Department of Education, 2020). 
The latest data from 2022 submitted to the Department of Education indicated that MATC's Hispanic student enrollment was 19.3%.
One of our stated HSI goals is to increase Hispanic student retention and persistence to 23% by 2021, up 5% from 18.9% in 2017.
WHY NOW?
In 2016, Hispanics accounted for 18% of the nation's population and were the second-largest racial or ethnic group behind whites. They are also the nation's second-fastest-growing racial or ethnic group, with a 2.0% growth rate between 2015 and 2016 (PEW, 2017). According to data projections compiled by the Western Interstate Commission on Higher Education, by the 2031-32 academic year, approximately one in four high school graduates in the nation will be Hispanic (WICHE, 2017).
Hispanics are also making big inroads in college enrollment. In 2014, 35% of Hispanics ages 18 to 24 were enrolled in a postsecondary institution, which is a 13-percentage-point increase from 1993 and amounted to 2.3 million Hispanic college students. By comparison, college enrollment during this same period among blacks increased by eight percentage points (to 33%), and among whites by five points (to 42%) (PEW, 2016).
Local Demographics
Milwaukee has mirrored these national trends, experiencing a dramatic demographic change over the last generation. According to the last census data available from the 2016 American Community Survey, Hispanic/Hispanic residents made up 19% of the City of Milwaukee's total population (113,812).  However, that population trends younger, as 26% of the population aged 17 or younger identifies as Hispanic/Hispanic (41,226) (Quick Facts, U.S. Census Milwaukee, retrieved 3/29/20 here). In fact, according to a 2016 report funded by the Greater Milwaukee Foundation, the growth in the Hispanic community is responsible for all the growth in K-12 school enrollment in the greater Milwaukee area between 2000-2014. All other demographic groups in the region are plateauing or declining in number (GMF, 2016).
Yet, Hispanics in our region are among the most educationally underserved. This population is the least likely to have a high school diploma, and Hispanic/Hispanic adults in the four-county Milwaukee metro area are about one-third as likely as their white counterparts to have a four-year degree.
Cities with high percentages of college graduates have higher economic and health outcomes and score higher on other markers of well-being, and often higher-paying jobs require education beyond a high school degree. A recent report by the Wisconsin Policy Forum (2019) demonstrates how a lack of educational opportunities can be correlated with a lack of economic opportunities: Hispanics in the metropolitan Milwaukee area underrepresented in relatively high-paying sectors, such as business and finance, healthcare, education, computer tech, and law.  In fact, Hispanics are highly underrepresented in every category that pays a median annual wage of $60,000 or higher.
Evidence of Value
Becoming an HSI can help MATC address these opportunity gaps in educational and workforce training for our growing Hispanic community. Data suggest that the delivery of education in Hispanic-Serving Institutions works. HSIs not only have higher graduation rates for Hispanic/Hispanic students than non-HSIs (Ed Trust, 2017), but they are also powerful vehicles for upward mobility for many students. According to a 2018 report from the American Council on Education, two-year HSIs propelled students from the lowest income quintile to the top income quintile at twice the rate of two-year non-Minority-Serving Institutions (MSIs).
While the mechanisms for Hispanic student success at HSIs are not clearly understood, some researchers have posited that the social and cultural shifts that come with an incredibly diverse student body, greater diversity of faculty and staff, and culturally relevant programs and curricula that HSIs offer can create the conditions necessary for underrepresented students to persist and thrive at these institutions (Ed Trust, 2017; ACE, 2018). As stated by Dr. John Moder, former senior vice president and COO of the Hispanic Association of Colleges and Universities (HACU), "These are institutions where they can feel at home because they're a significant part of the student population" (U.S. News and World Report, 2014). Working toward becoming an HSI and shifting our culture, policies, and practices to be more responsive to the growing diversity of our student population will enhance our ability to support and graduate more students.
Moreover, once an institution receives the HSI designation from the federal government, it is eligible to apply for Title V grants, which are designed to enhance educational opportunities for Hispanic and low-income students and promote their degree completion. These grants are multi-year, sometimes multi-million dollar awards. In 2019, the Developing Hispanic-Serving Institutions Program awarded 43 such new grants for a total of $24,695,319 over five years (Department of Education, 2020), helping HSIs to provide additional educational remediation and student services, facility improvements, improved technological capabilities, faculty development, and enhanced course offerings, among other improvements in infrastructure and services. Once MATC reaches 25% full time Hispanic enrollment, the institution will be positioned to take advantage of this unique grant opportunity in service to our students.
The Higher Ed Needs of a Growing Hispanic Population
While HSIs on average have better educational outcomes for Hispanic students, not all HSIs have a truly Hispanic-serving orientation. To serve our Hispanic students well, we must be intentional in our response to their unique assets and needs. For example, Hispanic students are twice as likely than white students to identify as first-generation college students. They are also more likely to follow "non-traditional" pathways such as enrolling part-time or starting a four-year degree at a two-year institution, and more likely to be low-income. More than half of all Hispanic college students worked 30 or more hours per week to finance their education. And, as 16% of Hispanic students were born outside of the United States, these students are more likely to be English-language learners (Excelencia, 2019).
For Hispanic-Serving Institutions that take this designation seriously and want to lay a solid foundation for success, they will offer remedial services as well as options for non-traditional delivery of classes (i.e. evening classes). MATC has many of these resources and educational offerings already in place. However, there are still factors to consider in creating that solid foundation, and looking to what Hispanic students are seeking is one way to ensure their success:
Hispanic students want to know, for example, that there are adequate financial aid packages available and they want information about financial assistance communicated early and often.
Hispanic students expect faculty who are supportive and, to the fullest extent possible, to see professors who can understand the background from which they come. This means intentional recruitment of Hispanic faculty, irrespective of Spanish language proficiency. It also requires a commitment among non-Hispanic faculty to be empathetic and understanding and to have a sense of cultural humility that lends itself to inclusive practices in their classroom pedagogy. 
Part of this inclusion would be the ability to hear Spanish being spoken on campus, between students, and between faculty/staff and students, in a way that is accepted and honored as an asset, not a deficit.
In addition, Hispanic students are seeking cultural programs, groups and events that demonstrate that the college embraces their culture in authentic ways (U.S. News and World Report, 2014).
A Pathway Forward
MATC is already engaged in transforming the lives of historically marginalized students, both traditional and non-traditional. Currently, the institution offers a number of courses and programs bilingually in an effort to expand access to English learners (see Appendix A for a complete listing of bilingual offerings and services at MATC Click here for data.) While providing a sense of belonging, this also helps to eliminate language barriers for those seeking higher education opportunities. The MATC Promise program offers free tuition to eligible students, making college accessible for students who otherwise may not have perceived it to be a possibility. Guided Pathways, a 3-tiered re-imagined student experience, intentionally supports students from the time they step onto campus until they complete their education (MATC Times, 2019).  All of these programs and initiatives position MATC perfectly to seek the designation of a Hispanic-Serving Institution. (See the MATC website for more information on our bilingual and Promise programs.)
HSI STEERING COMMITTEE LEADERSHIP
Arlensiu Garcia Novelli, HSI Student Success Liaison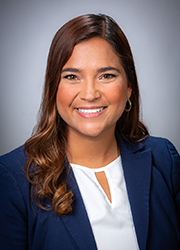 Arlensiu (Arlen) Garcia Novelli was born and raised in Zulia State, Venezuela, but moved to the USA in 2008. When she arrived in Milwaukee, she attended MATC as an ESL student to get ready for college. In 2014, she graduated from Wisconsin Lutheran College with a Public Relations Bachelor's Degree and earned her Master's from Washington State University in Strategic Communications.

She currently serves as MATC's Internal Communications Coordinator. In her previous role as Bilingual College Recruiter, she represented MATC at all Hispanic-serving High Schools within the MATC District, planned and executed MATC's Casa Abierta and still has a monthly Facebook live called "Orgullo MATC En Vivo" where she highlights Latinos who have made a difference at MATC as students and/or staff. Arlensiu is also an advisor to the MATC Latinx Unidos Student Organization. Her background and experience as a student, English Language Learner and immigrant have increased her desire to continuously transform lives through education, especially the Latinx/Hispanic community and other minorities.
Contact: garca136@matc.edu | 414-297-6239
Patricia Torres Najera, Executive Director Of Community Education, Hispanic-Serving Institution (HSI) Initiatives And Strategic Engagement
Contact: najerap1@matc.edu | 414-297-7923