IT SUPPORT UPDATE (03/24/2020)
Starting today you can chat with helpdesk@matc.edu in Google Hangouts by clicking the plus sign ( + ) in the upper left and searching "MATC-IT Helpdesk." The HelpDesk is currently staffed 8 a.m.-7 p.m.
Helpdesk
Welcome to MATC Information Technology Helpdesk Services. Helpdesk Services provides computer hardware and software support for academic and administrative functions of the college. The department also supports students and faculty in general purpose labs at each of the three outlying campuses as well as providing Helpdesk services at all campuses. 
Hours
Monday - Friday, 7:30 a.m. to 7:00 p.m.
Saturday - Sunday, 8 a.m. to 4 p.m.

 

(Voicemail Attendant Only)

Summer Hours
Monday - Friday, 7:30 a.m. to 4:30 p.m.
Saturday - Sunday, 8 a.m. to 4 p.m.

 

(Voicemail Attendant Only)


To contact the Helpdesk By Phone
Dial: 414-297-6541
To Contact the HELPDESK Online
Follow the steps below
(returning users can skip to step 2)
Step 1 - Filling out a HELPDESK ticket
FOR FIRST TIME USERS
You will now be able to log your requests for Information Technologies and Telecommunications at one easy location
You will receive confirmation emails when your request is received or completed
You will be able to check the status of your incidents yourself.
Here's how:
You will be asked for your email address

You will be leaving the MATC web site and will be re-directed to a third-party web site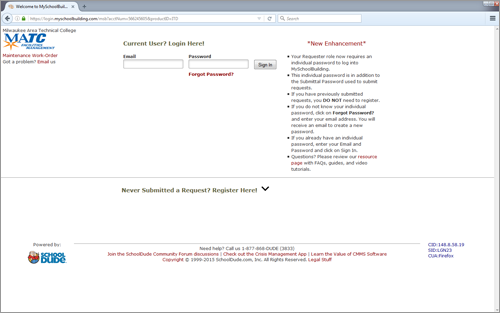 Note:  If this is the first time you are logging in, you will be prompted: "We cannot find the indicated email address."
Key in your Last Name and click on Submit. 
You will then be prompted for your First Name and Phone Number. 
Click on Submit again.
The following is the main page that you will use for your requests: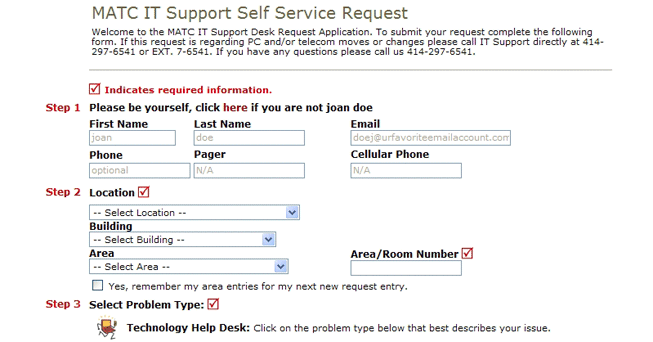 The first tab is "IT Request"
Submit your computer, telecommunications, audio-visual, and KTS requests here.

The second tab is "My Requests"
This will show you the status of your incidents that you submitted.

The third tab is "Settings"
You can change the settings of the email notifications sent to you.
These fields are already completed for you.
Location  
Complete the location information for where the problem is located. For example if the problem is in a classroom, list the classroom number.
Note: For Downtown campus, choose Downtown Campus first. Then choose your building location.
Select a Problem Type
You will need to click on the icon.
The icon will change to a red circle with the words "Select" 
After you click on the icon, the screen will flash for a second and then reappear.
The icon you selected will look like this: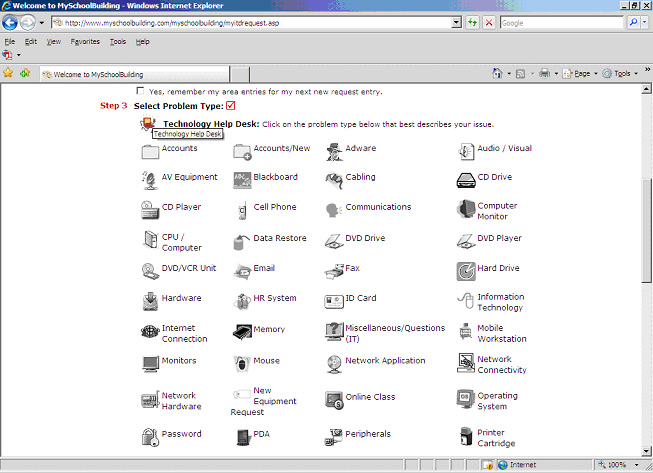 Please describe your problem or request
Give as much detail as possible to your problem or request.
Suggestions of items to include:
List the steps that you have tried to resolve the problem.
When did the problem first start?
When do you need this problem/request resolved?

Attachment
You can attach a file to your incident, for example, a print screen of the error message.

Submittal Password
The submittal password to submit an incident is : matc
Everyone at MATC will use this same password.
If you forget the password, click on the "Forgot Password" link and an email will be sent to you with the password.

Submit
Click on Submit to save your incident.
You should receive an email with your incident number and details of the incident.
For emergencies, call the Help Desk (ext. 7-6541 or 414-297-6541).
Step 2: Returning Users
Submit a Request using the following link
(You are now leaving the MATC web site and will be re-directed to a third-party web site.)