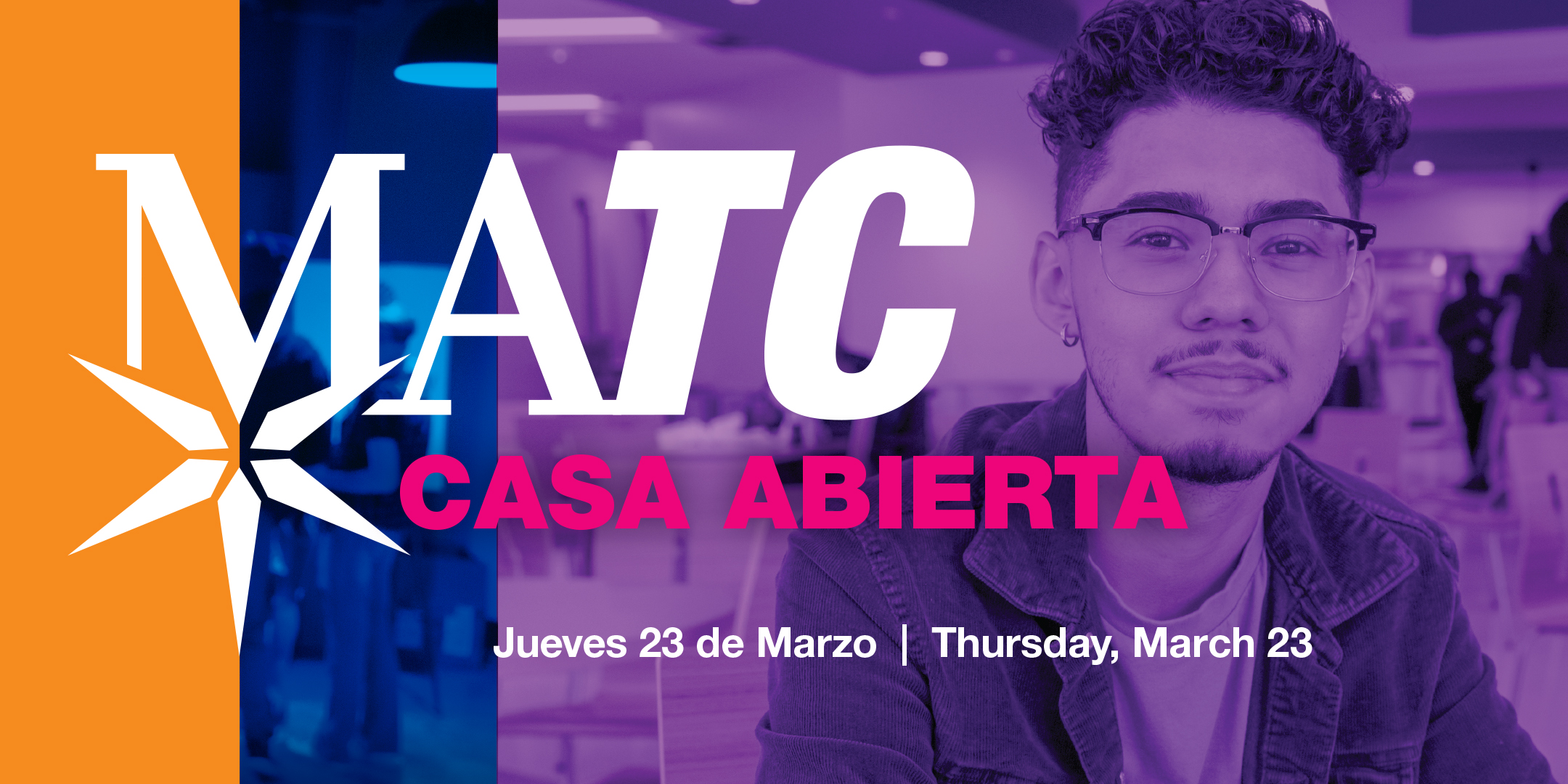 MILWAUKEE – On Thursday, March 23, 4-7 p.m., Milwaukee Area Technical College (MATC) will host "Casa Abierta," an open house focused on informing prospective students and their families about educational offerings — including bilingual programs and English as a Second Language — provided at the Education Center at Walker's Square and other MATC locations. The festive event is an opportunity for the community to explore the myriad of services provided in the heart of Milwaukee's Hispanic/Latino/Latina community.
Attendees will hear from Patricia Torres Najera, Ph.D., executive director of Community Education, Hispanic-Serving Institution (HSI) Initiatives and Strategic Engagement; meet with bilingual program instructors; and get information about bilingual, and college-level programs.
Here are other featured activities for prospective students:
English as a Second Language (ESL) classes
Spanish/English bilingual programs
Get information about ESL classes and GED/HSED programs to finish high school in Spanish or English.
Learn about financial aid, including scholarships such as the Ellen & Joe Checota Scholarship Program, MATC Promise and DACA Plus.
Tour state-of-the-art manufacturing and construction shops at Walker's Square.
Learn about admissions and registration, and turn in high school transcripts.
Complete a FAFSA (Free Application for Federal Student Aid). Prospective students are encouraged to bring your 2021 or 2022 tax returns for assistance in FAFSA completion.
EVENT DETAILS
WHAT: Casa Abierta
WHEN: Thursday, March 23, 4–7 p.m.
WHERE: MATC Education Center at Walker's Square, fourth Floor, Cyber Café, 816 West National Avenue, Milwaukee
Find out more about Casa Abieta!
El jueves 23 de marzo, de 4 a 7 p. m., Milwaukee Area Technical College (MATC) llevará a cabo "Casa Abierta", una jornada abierta cuyo objetivo es informar a los futuros estudiantes y a sus familias sobre las ofertas educativas, como los programas bilingües e Inglés como Segunda Lengua, que se brindan en el Centro educativo de Walker's Square y en otros lugares de MATC. El evento festivo es una oportunidad para que la comunidad explore la gran cantidad de servicios que se ofrecen en el centro de la comunidad hispana/latina de Milwaukee.
Los asistentes escucharán a Patricia Torres Najera, Ph.D., directora ejecutiva de Educación Comunitaria, Iniciativas de Institución que Presta Servicios a Hispanos (HSI) y Participación Estratégica, se reunirán con profesores de programas bilingües y obtendrán información sobre programas bilingües y de nivel universitario.
Estas son algunas otras actividades destacadas para futuros estudiantes:
Clases de Inglés como Segunda Lengua (ESL).
Programas bilingües de español/inglés.
Obtenga información sobre las clases de ESL y los programas de diploma general de educación (GED) o de diploma de equivalencia de escuela secundaria (HSED) para terminar la escuela secundaria en español o en inglés.
Infórmese sobre la ayuda económica, como las becas del Programa de Becas Ellen & Joe Checota, MATC Promise y DACA Plus.
Visite los modernos talleres de fabricación y construcción en Walker's Square.
Infórmese sobre las admisiones y la inscripción, y presente los expedientes académicos de la escuela secundaria.
Complete una solicitud gratuita de ayuda federal para estudiantes (FAFSA). Se anima a los futuros estudiantes a que traigan sus declaraciones de impuestos de 2021 o 2022 si necesitan ayuda para completar la FAFSA.
Para obtener más información y registrarse en Casa Abierta, visite matc.edu/CasaAbierta.
INFORMACIÓN DEL EVENTO
EVENTO: Casa Abierta
FECHA: Jueves 23 de marzo, de 4 a 7 p. m.
LUGAR: Centro educativo de MATC en Walker's Square, cuarto piso, Cyber Café, 816 West National Avenue, Milwaukee
About MATC: Wisconsin's largest technical college and one of the most diverse two-year institutions in the Midwest, Milwaukee Area Technical College is a key driver of southeastern Wisconsin's economy and has provided innovative education in the region since 1912. More than 25,000 students per year attend the college's four campuses and community-based sites or learn online. MATC offers affordable and accessible education and training opportunities that empower and transform lives in the community. The college offers more than 170 academic programs — many that prepare students for jobs immediately upon completion and others that provide transfer options leading to bachelor's degrees with more than 40 four-year colleges and universities. Overwhelmingly, MATC graduates build careers and businesses in southeastern Wisconsin. The college is accredited by the Higher Learning Commission.