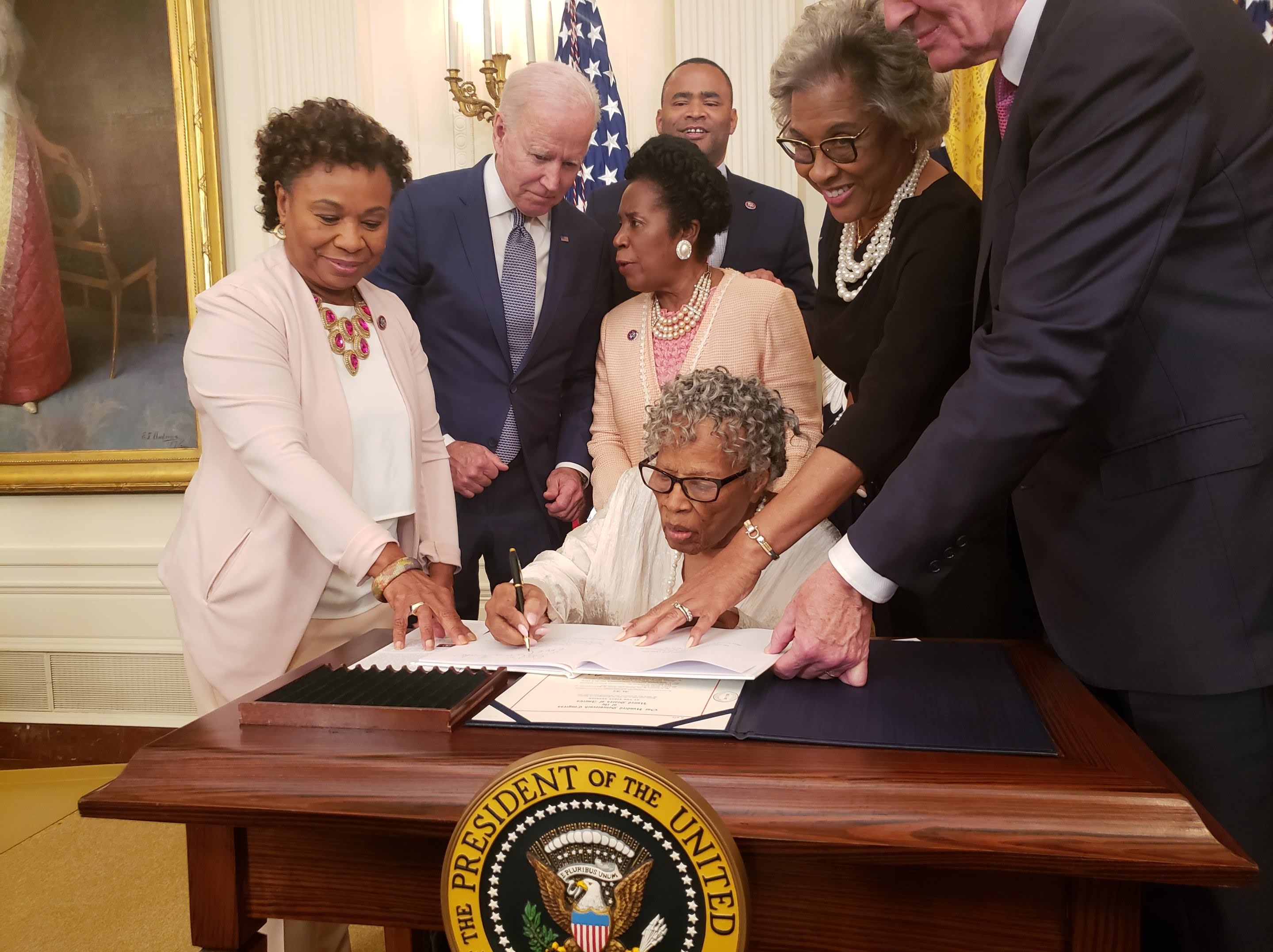 I have to tell you that none of us are free until we are all free.
MILWAUKEE – Opal Lee, often called the grandmother of the Juneteenth federal holiday established in 2021, will visit Milwaukee Area Technical College on Friday, February 24. 
Lee, 96 years old, will speak to a group of students from Milwaukee Public Schools' Golda Meir and Dr. Martin Luther King Jr. Elementary Schools at MATC's Create Gallery, where the college is hosting the Magical Black Tears Experience exhibition pilot.
Lee and the students will explore the Magical Black Tears Experience, a unique, interactive museum exhibition that teaches children ages 4-12 how direct action can create a more just and fair society for Black people.
The exhibit was inspired by the book "Magical Black Tears: A Protest Story," written by Decoteau J. Irby, Ph.D., illustrated by Dominique Duval-Diop and published by Derute Consulting Cooperative. The exhibition started February 1 – the first day of Black History Month.
Later on Friday, Lee will read and sign copies of her book, "Juneteenth: A Children's Story," which explains the origin of the holiday and its importance.
The June 19 holiday commemorates the day when the last enslaved Black Americans learned they were free, following the Emancipation Proclamation two years earlier in 1863.
Milwaukee's annual Juneteenth celebration – a parade and festival – started in 1971 and is one of the oldest in the country.
Lee, born in Marshall, Texas, is a retired teacher, counselor and activist. She campaigned tirelessly to make Juneteenth into a national holiday. In 2016, aged 89, she started Opal's Walk 2 DC with the goal of collecting 100,000 petition signatures. She walked the 1,400 miles from Fort Worth, Texas, to Washington, D.C., to gain support for her efforts. Since then she has held walks in a half dozen states and collected more than 1.5 million signatures.
Lee was at the White House on June 17, 2021, when President Joe Biden enacted the holiday – the first new federal holiday since Martin Luther King Jr. Day was created in 1983. 
Lee received one of the pens Biden used to sign the bill. She has won numerous awards for her community work and in 2022 was nominated for the Nobel Peace Prize.
Her accolades include:
2019: Honored at 400th Anniversary of 1619 Slaves Landing
2020: Won Elaine Brown Community Advocacy Award, National Coalition of 100 Black Women, Dallas Metropolitan Chapter
2020: Received Power of Influence Awards, Lifetime Achievement Award 
2020: Won Story Terrace Unsung Hero Award
2020: Won National Philanthropy Day Award
2020: Won annual Visit Fort Worth Hospitality Award
2021: Honored by U.S. Voice of Peace