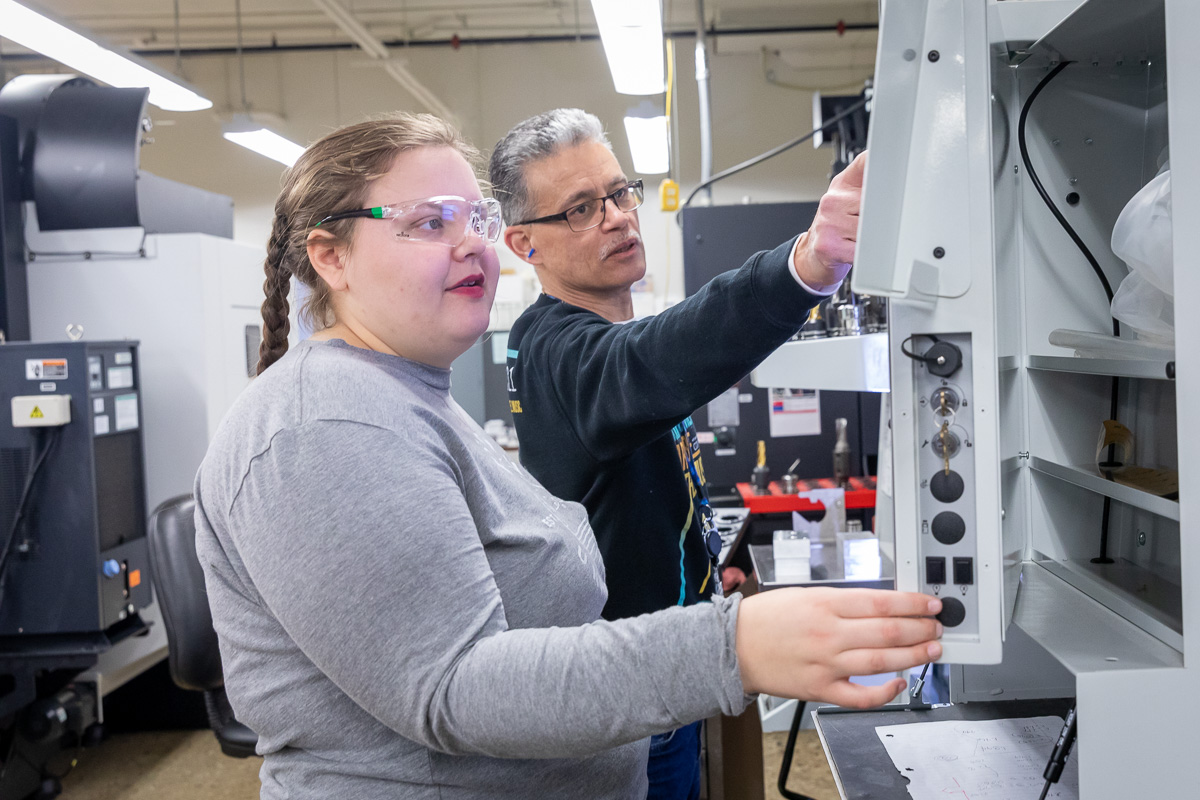 "The very best thing is that I finally feel like I belong somewhere. Being in a place where I'm truly accepted for who I am is a miracle."
MILWAUKEE – Nowadays, Siri Reichelt has way more good days than bad days.
Teased in middle school for her name, shunned in high school for her autism, Reichelt never felt supported, never felt accepted, never felt at home anywhere.
"Most people didn't care if I succeeded or not. No one really believed in me," she remembered.
Then she found out about Milwaukee Area Technical College's Uniquely Abled Academy, designed to provide students on the autism spectrum the hands-on training needed to prepare for a career as a computer numerical control (CNC) operator. 
Reichelt's mother heard about the program and suggested she look into it. Siri, who had tried college once before and had just lost a job at a bakery during the COVID-19 pandemic, figured she had nothing to lose.
She applied and, to her surprise, got in and started classes at the end of August. She survived a shaky start and is now thriving as the first female participant in the program, now in its second year.
"Like they say, the roller coaster is only going up right now," Reichelt said. "Everyone in the program has been so supportive. I'm getting into it and finding out that I'm pretty darn good at it.
"The very best thing is that I finally feel like I belong somewhere," added Reichelt, her voice cracking with emotion. "Being in a place where I'm truly accepted for who I am is a miracle."
The UAA program provides students with more than 500 hours of instruction in how to apply basic safety practices in the machine shop, interpret industrial/engineering drawings, apply precision measuring methods to part inspection and perform basic machine tool equipment setup and operation. 
Upon completion, graduates will earn a CNC Setup and Operations certificate, qualifying them for a number of entry-level positions, including machine trainee, machinist apprentice and CNC operator, with salaries starting at $14-$17 per hour, said Goldhmong Vang, coordinator of the Uniquely Abled Academy program at MATC.
Along with the CNC coursework, students get an hour of career readiness and social skill classes each session, Vang said. Students build resumes, learn interview skills, visit prospective employers and watch employer presentations.
MATC's program is the result of a partnership with the Uniquely Abled Project, which is based in Los Angeles and was established in 2013 by Ivan Rosenberg, an aerospace industry consultant and parent of two children on the autism spectrum. 
According to the Autism Society, more than 3.5 million Americans live with an Autism Spectrum Disorder (ASD). Many individuals with ASD are either unemployed or underemployed. 
"The program is another innovative approach where MATC is working to nurture the talents of individuals in our district while meeting employer demands in an industry that needs skilled workers," said Laura Bray, MATC vice president of College Advancement and External Communications. "This is a clear win-win for students and employers."
In 2021, an inaugural cohort of six students completed the program. This year the program had five students and will run across two semesters instead of one, Vang said.  
Reichelt, 22, is the first female to participate in the program. On the first day of classes, Reichelt met Kim Bertrand, the program's educational assistant who studied CNC machining at MATC and works in a machine shop when not helping in the classroom. Reichelt didn't say much to her, Bertrand recalled.
"Siri is all about first impressions, and she thought I was too perky, too forward," Bertrand recalled. "She was quiet the rest of the day. Then we found out I taught at her old high school, so we had a little spark and we began to click.
Reichelt and Bertrand forged a bond that made Reichelt feel accepted and welcomed. "They aren't just students to me," Bertrand said. "They are young adults trying to find their way in the world, and I think I know a little of what they are going through."
Now Reichelt revels in the program — and her singular status. "I can sort of brag about that," she said with a smile. "My family brags about it. Hopefully, another girl with autism sees what I have done and sees what I am doing and feels like she can come into the program. And my mother has said this is the happiest she has ever seen me."
Find out about the Uniquely Abled Academy
Individuals on the spectrum who can participate in activities without the assistance of a caregiver (DSM-5 terminology: Level 1 Autism) are welcome to apply.
About MATC: Wisconsin's largest technical college and one of the most diverse two-year institutions in the Midwest, Milwaukee Area Technical College is a key driver of southeastern Wisconsin's economy and has provided innovative education in the region since 1912. More than 25,000 students per year attend the college's four campuses and community-based sites or learn online. MATC offers affordable and accessible education and training opportunities that empower and transform lives in the community. The college offers more than 170 academic programs — many that prepare students for jobs immediately upon completion and others that provide transfer options leading to bachelor's degrees with more than 40 four-year colleges and universities. Overwhelmingly, MATC graduates build careers and businesses in southeastern Wisconsin. The college is accredited by the Higher Learning Commission.