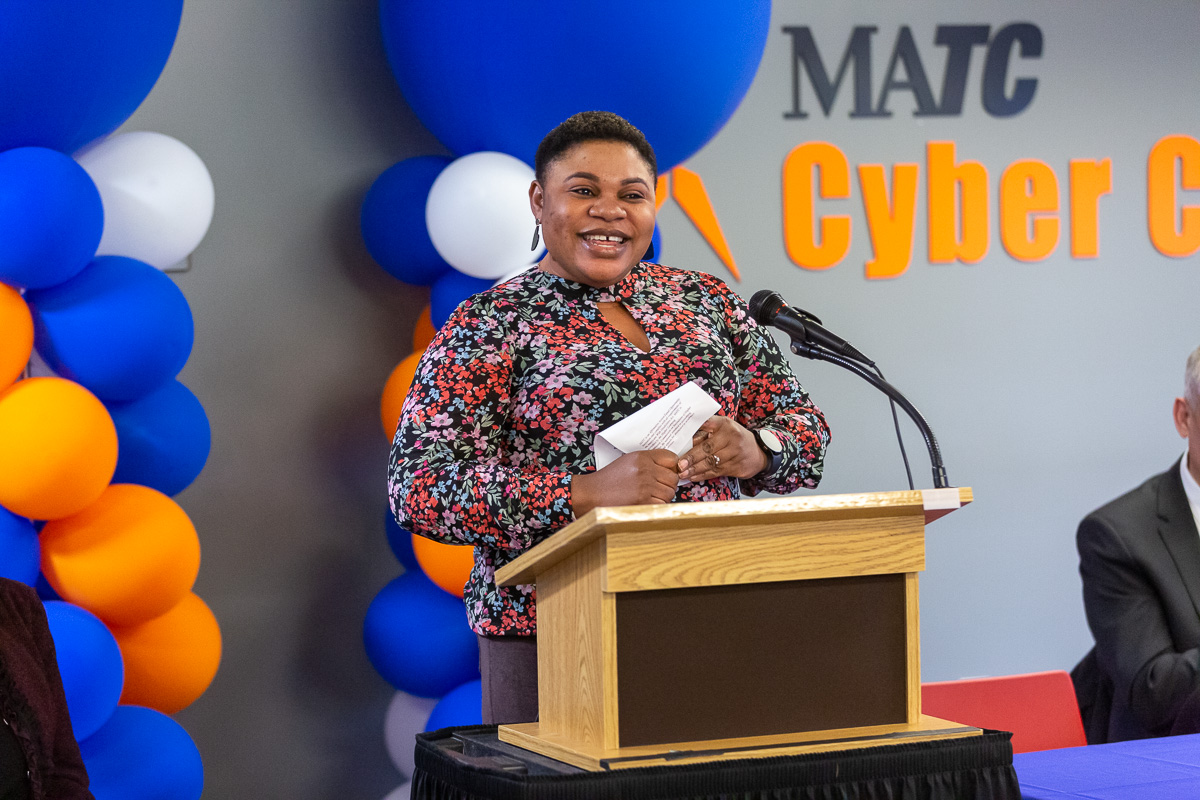 MILWAUKEE – Pretty Mujanyi will always remember where she came from.
Even in happy, joyful times, like when she received a completion certificate from Milwaukee Area Technical College's Integrated Education and Training (IET) program this month, she can still recall the fear and anxiety she felt growing up in war-torn Africa and living in a resettlement camp in the nation of Zambia.
"I am a refugee, and I have never forgotten that," she told her IET classmates. "But I am here now."
Mujanyi was among 22 MATC  students who received IET career pathway completion certificates in healthcare customer service and administrative professional programs on December 14 at the MATC Education Center at Walker's Square. 
See photos from the ceremony at Walker's Square
In the IET Career Pathway program, students can earn college credit in certain career areas while simultaneously completing their alternative high school credential, like a General Education Development (GED) or High School Equivalency Diploma (HSED).
"You have spent hours, months, and for some, even years, reaching this point," said Naydeen Gonzáles De Jesús, Ph.D., executive vice president of student success, when she spoke at the ceremony. "You have listened, you have practiced and now you are ready to put everything you know into motion."
"Your hard work will take you anywhere you want to go in life," added Lorissa Najer-Lester, MATC's IET coordinator.
Mujanyi hasn't had an easy life. She was born in the Democratic Republic of the Congo, a nation fraught with simmering feuds, violent clashes and civil wars. When she was six years old, her family fled to the neighboring nation of Zambia and lived in a resettlement camp.
Zambia has become a haven for people fleeing violent conflict all over Africa. Today, Zambia hosts more than 105,000 refugees, asylum-seekers and other people of concern, according to the United Nations High Commissioner for Refugees (UNHCR).
Mujanyi and her brother arrived in the United States in November 2017. A year later they moved to Milwaukee. She started GED classes at MATC in 2020 but dropped out after several months. She then entered the HSED program, took classes in the summer and heard about the IET program.
Mujanyi plans to enroll in MATC's Phlebotomy program and learn how to draw blood, process specimens and work in a medical laboratory. Eventually, she would like to earn a degree in and work as a medical laboratory technician.
Aside from school, Mujanyi raises a young son and works as a receptionist at Milwaukee's International Institute of Wisconsin which promotes international cooperation and understanding through education, arts, exchange, communication, social activities and immigration and naturalization services.
She also recently started the process to become an American citizen.
"The IET program and everyone at MATC have really helped me, especially with my English," Mujanyi said. "I think this is just the beginning of my career."
About MATC: Wisconsin's largest technical college and one of the most diverse two-year institutions in the Midwest, Milwaukee Area Technical College is a key driver of southeastern Wisconsin's economy and has provided innovative education in the region since 1912. More than 25,000 students per year attend the college's four campuses and community-based sites or learn online. MATC offers affordable and accessible education and training opportunities that empower and transform lives in the community. The college offers more than 170 academic programs — many that prepare students for jobs immediately upon completion and others that provide transfer options leading to bachelor's degrees with more than 40 four-year colleges and universities. Overwhelmingly, MATC graduates build careers and businesses in southeastern Wisconsin. The college is accredited by the Higher Learning Commission.