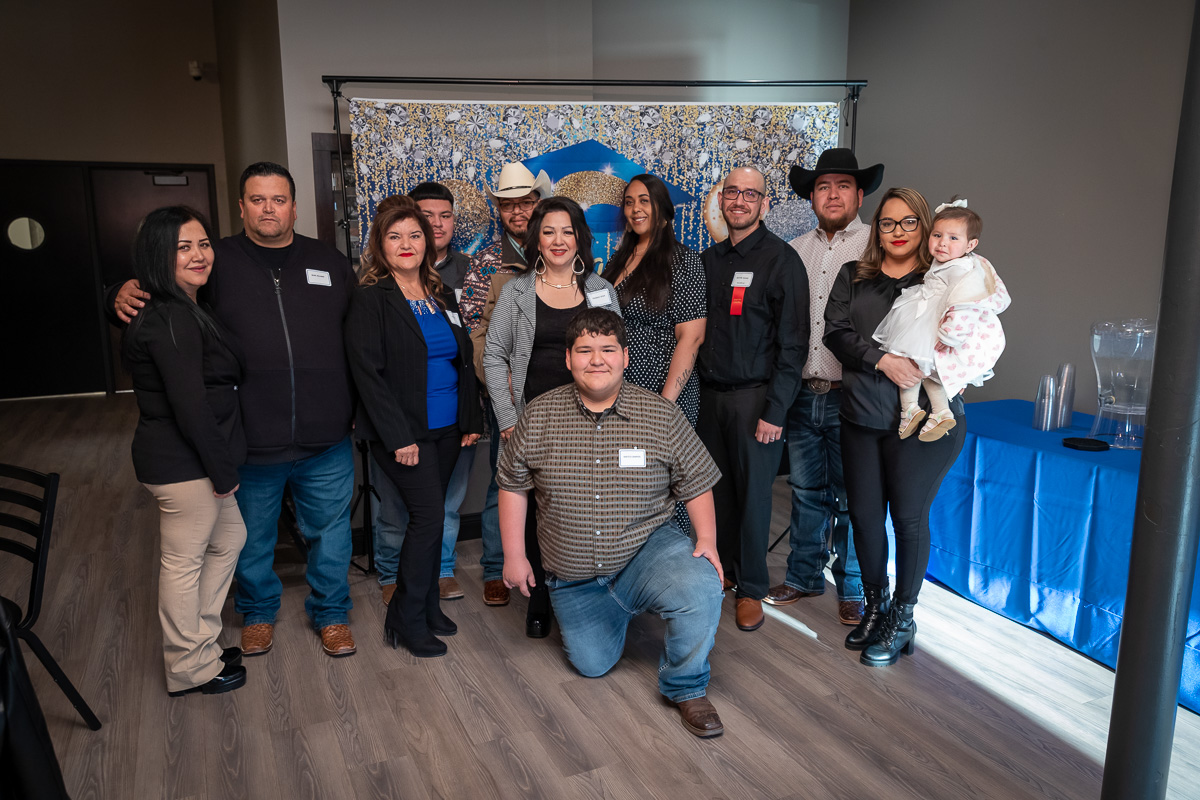 My family knows the challenges I've had in my life, and I think they want to see how I've been able to turn things around.
MILWAUKEE – At some point, New Mexico got old for Hector Olivas.
He was born and raised in Roswell, a desert town of 48,000 people best known for its International UFO Museum and exhibits of Southwestern art. By the time he was 26, Olivas had an unexciting job testing milk for contaminants and had gotten into a couple of scrapes with the law.
So when an old pal who had moved to Wisconsin to work as an electrician invited him north, Olivas didn't think twice.
"I needed a fresh start. I pretty much took off and left everything behind," he said. "It turned out to be a pretty good career choice."
Olivas, who turns 32 in June, got to Milwaukee in 2018. He was accepted into the electrician apprenticeship program through the Joint Area Training Council (JATC) and started classes taught by Milwaukee Area Technical College instructors.
Five years later, he has completed his coursework and is on the verge of becoming a journeyman electrician. His career and life milestone was celebrated on Wednesday, April 26 by almost a dozen family members who traveled the 1,340 miles from New Mexico to see Olivas' apprenticeship completion ceremony at the Bucyrus Erie Club in South Milwaukee.
"My family knows the challenges I've had in my life, and I think they want to see how I've been able to turn things around," Olivas said. 
The contingent includes his mother, Lourdes, who grew up in Mexico; his three brothers; several aunts; uncles; and cousins, including one baby. The relatives flew to Milwaukee on April 25 and almost immediately bought coats. 
"The weather here is a little bit cooler than we're used to," said Olivas' mother.
"My mom has 11 brothers and sisters," he said. "When you think about all those aunts, uncles, cousins, their wives and their kids, it's just a handful who are coming."
Olivas' family should be proud of his accomplishments, said Levi M. Cook, an MATC electrical instructor. "Hector told me about how he left his family to move to Wisconsin in order to pursue an apprenticeship in the electrical trade," Cook said. "It is a testament to his character and dedication to finish up five years of schooling and training in order to achieve his goals. Hector always has a smile on his face, and is a diligent student."
At MATC, construction and industrial apprenticeships provide on-the-job, paid training and related classroom instruction. While taking classes at MATC, Olivas worked at WIL-Surge Electric Inc. in Butler for four years. He then moved to Terminal-Andrae Inc., a long-time Milwaukee electrical contractor company that specializes in commercial construction projects.
In the past five years, Olivas has learned to love his new home. He survived record-low freezing temperatures in 2019, met his wife, Jazzmin, a Milwaukee native, and has realized the value of attaining education and starting a career.
"I'm in a much different place in my life right now. I have calmed down a lot in the last 10 years," Olivas said. "Sometimes I'd like to go back and give my 20-year-old self a slap on the back of the head and ask him what he was doing.
"Now I'm focused on my career and my skill set," he added. "I'm trying to establish something that I can pass on to my children and that my family can be proud of."
Find out about MATC's apprenticeship opportunities
About MATC: Wisconsin's largest technical college and one of the most diverse two-year institutions in the Midwest, Milwaukee Area Technical College is a key driver of southeastern Wisconsin's economy and has provided innovative education in the region since 1912. More than 25,000 students per year attend the college's four campuses and community-based sites or learn online. MATC offers affordable and accessible education and training opportunities that empower and transform lives in the community. The college offers more than 170 academic programs — many that prepare students for jobs immediately upon completion and others that provide transfer options leading to bachelor's degrees with more than 40 four-year colleges and universities. Overwhelmingly, MATC graduates build careers and businesses in southeastern Wisconsin. The college is accredited by the Higher Learning Commission.