At an age when most people are planning retirement, Anne Wineland was living in her car, "eating day-old bread and wilted lettuce," and "reinventing herself" by earning a technical diploma from Milwaukee Area Technical College's medical coding specialist program.
Four years ago, the company Wineland worked for went out of business. She had been an office manager who handled accounting duties such as accounts payable and accounts receivable for numerous companies over the previous 40 years. At age 60, she had no college degree, no CPA certification and believed she was facing age discrimination as she searched for another job.
Forced to Live in Her Car
"I blew through my savings and the money I'd set aside for my retirement very quickly, trying to stay alive and to hang on to my condo," she said. After about two years, she lost her home. She stored some belongings in a friend's barn and began to live in her car. On the most bitterly cold nights, she asked friends if she could crash at their homes. "Sometimes, I just needed a chair to sleep in," she said. "I really needed to get warm."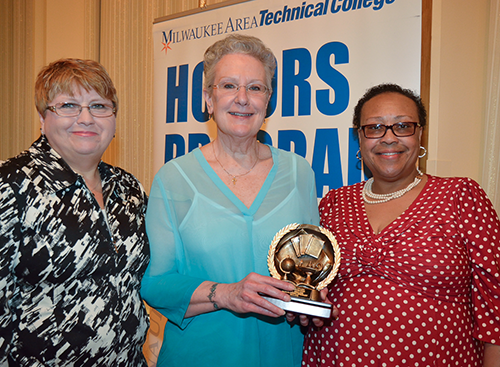 Most nights, she'd park in grocery store lot and try to sleep. "You can't park in the same place two nights in a row, because that becomes a problem for the businesses," she said. "If a police officer came to the car, I'd explain the situation and they'd leave me alone."
She said she didn't stay at shelters, "because I had a car to keep me out of the rain. I hated to take a bed from someone who really needed it."
Sought Training for Career with a Future

Frustrated by her unsuccessful job search, Wineland decided she needed a new career and the educational credentials to match.  She was interested in the medical field but did not want to perform hands-on patient care. She said she investigated the medical coding field because she is good at working with numbers. "I was looking for something with a future," she said. "Illness and medical insurance are not going away. With medical coding, you are pretty much guaranteed a job."
After investigating several medical coding programs, she chose to attend MATC. "It was a good program, it led to a certification and MATC is affordable," she said. She received full financial aid during her time at the college.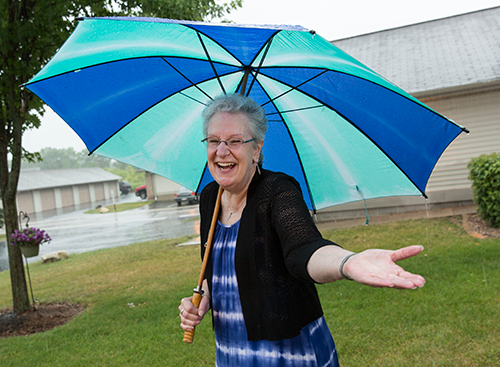 "After I paid for tuition and books, I squirreled away the little bit of remaining financial aid to use to buy food," she said. "Sometimes, friends gave me gift cards to grocery stores. I'd buy peanut butter and tuna… things that didn't have to be refrigerated." Occasionally, she would go to St. Benedict the Moor's Community Meal Program, located blocks from MATC's Downtown Milwaukee Campus, for a hot meal.
Received Support from MATC Instructors, Staff and Students
Wineland lived in her car for about a year of her tenure as an MATC student. "My teachers, the staff, the other students… everyone was wonderful to me," she said. "Staff and counselors gave me advice on where to get assistance. When we'd work on group projects, my classmates wouldn't let me pay for the expenses. They knew about my situation."
In the blink of an eye, you can lose everything. When it happens, you cry, but you have to realize that no one is going to fix this for you. You've got to believe it's going to get better. You can't wallow. You have to stand up and find a solution.
She was particularly grateful for the support and instruction she received from medical coding specialist instructor Joan Wolfgang. "She's the best person I met at MATC," Wineland said. "If someone had a problem, she always helped. She's really good. I admire her humanity."
Wolfgang spoke enthusiastically about Wineland. "She took her adversity and used it to challenge herself," Wolfgang said. "She was one of the best students I've had. She was always one of the first to get her work in. Anne did not let adversity defeat her, she defeated it. Her dedication to being successful was great to see."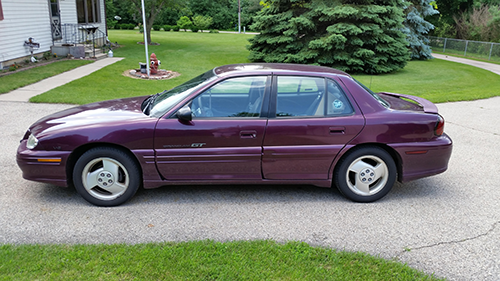 Wineland graduated from MATC in spring 2015 with scholastic honors, and also earned the medical coding specialist program's Lamp of Knowledge Award for excellence that semester. She passed the Certified Professional Coding Exam shortly after graduation and quickly landed a medical coding job working at QuadMed, which was originally created to provide health care to Quad/Graphics employees and now contracts with other employers as well.
While applying for coding jobs, Wineland said she made a concerted effort to address her circumstances, despite advice from experts not to talk about her age during interviews. "I told prospective employers that I had no retirement fund and was not a short-term hire," she said. "They don't want to hire and invest in training for someone who will retire in two years. I told them I plan to work till the day I die."
Grateful for Job, Home and Insurance
Now 63, she is grateful to have her job at QuadMed, an apartment and health insurance. She is considering returning to MATC in the future to earn her associate degree in health information technology (HIT). The medical coding diploma is part of a pathway program that comprises the first half of the HIT associate degree.
Wineland said she learned that there is no support system for older people who lose their jobs, so senior citizens really have to look out for themselves. "If you are not caring for your grandchildren or for foster children, there is no program, there is nobody out there to help seniors," she said.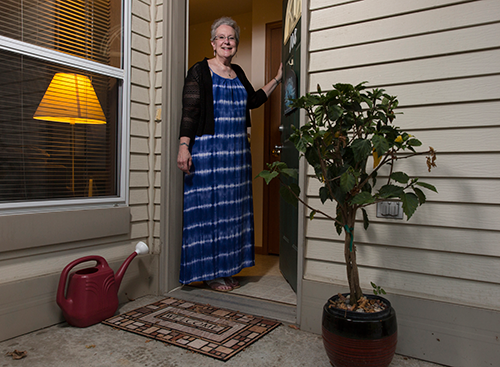 Her advice to people in her situation? "Get your ducks in a row. In the blink of an eye, you can lose everything. When it happens, you cry, but you have to realize that no one is going to fix this for you. You've got to believe it's going to get better. You can't wallow. You have to stand up and find a solution."
For more information on MATC's medical coding specialist technical diploma, visit the program page.
To learn about MATC's health information technology associate degree program, visit the program page.