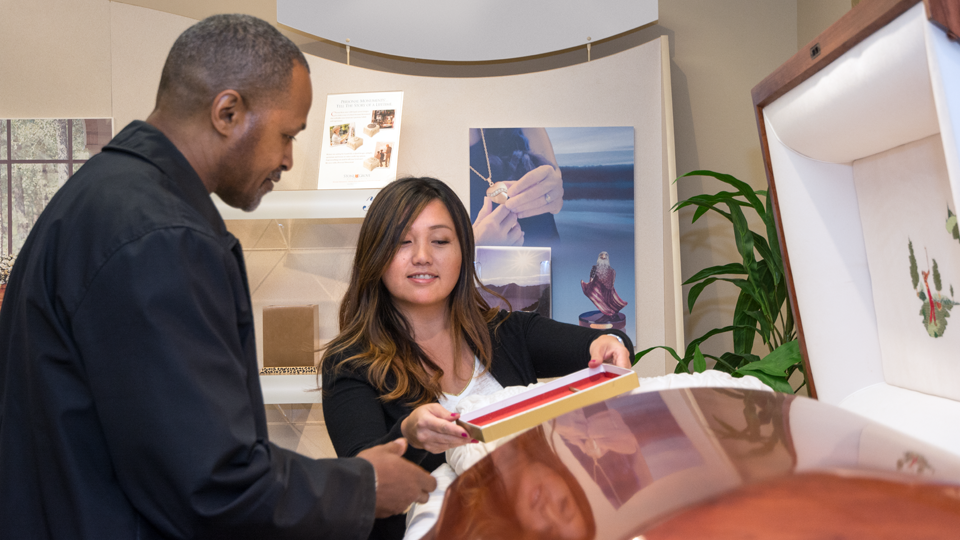 Program Information
Location:

West Allis Campus


Pathway:

Community & Human Services

Program Code:

10-528-1

Offering:

In-class

Degree Type:

2-Year Degree (Associate)

Start Dates:

August
About the Funeral Service Degree
DESCRIPTION
This program prepares you for a career as a licensed funeral director and embalmer in a profession that demands compassion, dedication and creativity. Our rigorous curriculum trains students to become among the best funeral directors in the expanding death-care profession. Once accepted into the program, students are immersed in all facets of the funeral profession.
Coursework will include embalming, arranger training, grief studies, business management, religious funeral practices, regulatory compliance and more. Throughout the program, students are provided a variety of unique learning opportunities through lectures, hands-on labs, field trips, seminars, guest speakers and internships.
Facilities include classrooms, state-of-the-art embalming and restorative art labs, arrangement conference room, merchandise selection room and funeral chapel.
Students who complete the program will earn an associate degree and be eligible to take the National Board Exam for funeral directors (required for licensure).
---
Detailed Program Information
2020-21 Curriculum
Semester
Course
Course Name
Credits
(1)
 ENG-195
Written Communication
(or) ENG-201 English 1 ‡
3
(1)
FUNERL-106
Thanatochemistry
3
(1)
NATSCI-177
General Anatomy and Physiology ‡
4
(1)
PSYCH-199
Psychology of Human Relations 
(or) Any 200-level PSYCH course
3
(1)
SOCSCI-197
Contemporary American Society
(or) SOCSCI-210 Death and Dying
3
(2)
ACCTG-110
Financial Accounting
3
(2)
BADM-165
Legal Environment of Business
3
(2)
ENG-196
Oral/Interpersonal Communication 
(or) Any 200-level ENG or SPEECH course
3
(2)
NATSCI-197
Microbiology ‡
4
(3)
FUNERL-104
Funeral Service Field Experience I ‡
2
(3)
FUNERL-110
Introduction to Funeral Service ‡
2
(3)
FUNERL-112
Laws, Rules and Regulations of Funeral Service ‡
3
(3)
FUNERL-114
Pathology of Funeral Service ‡
2
(3)
FUNERL-116
Funeral Service Practices ‡
4
(3)
FUNERL-121
National Funeral Board Preparation I ‡
1
(3)
FUNERL-131
Embalming Theory ‡
4
(4)
FUNERL-105
Funeral Service Field Experience II ‡
2
(4)
FUNERL-117
Funeral Service Management ‡
4
(4)
FUNERL-120
Restorative Art ‡
4
(4)
FUNERL-122
National Funeral Board Preparation II ‡
1
(4)
FUNERL-132
Funeral Service Science ‡
3
(4)
FUNERL-153
Psychology of Funeral Service ‡
3

TOTAL CREDITS

64
( ) Semester order for full-time students.
‡ Prerequisite required.
Program curriculum requirements are subject to change.
Current MATC students should consult their Academic Adviser for specific curriculum requirements.
To see course descriptions, class times, locations or to register online:
Students already enrolled in an MATC program can visit Self Service Student Planning.
All others can access this information through INFOnline.
2020-2021 Program Card
View/print the program card:  front (jpg) | back (jpg)
Important Dates
Program Outcomes
American Board of Funeral Service Education Program Outcomes
Explain the importance of funeral service professionals in developing relationships with the families and communities they serve.
Identify standards of ethical conduct in funeral service practice.
Interpret how federal, state, and local laws apply to funeral service in order to ensure compliance.
Apply principles of public health and safety in the handling and preparation of human remains.
Demonstrate technical skills in embalming and restorative art that are necessary for the preparation and handling of human remains.
Demonstrate skills required for conducting arrangement conferences, visitations, services, and ceremonies.
Describe the requirements and procedures for burial, cremation, and other accepted forms of final disposition of human remains.
Describe methods to address the grief-related needs of the bereaved.
Explain management skills associated with operating a funeral establishment.
Demonstrate verbal and written communication skills and research skills needed for funeral service practice.
NATIONAL BOARD STATISTICS - Milwaukee Area Technical College
| | | |
| --- | --- | --- |
| 3 year Average | # Pass Arts | % Pass Sciences |
| 2017 - 2019 | 57% | 53% |
| 2016 - 2018 | 60% | 60% |
| 2015 - 2017 | 60% | 67% |
| Most recent | # Takers | # Passed |
| 2019 Arts | 13 | 8 |
| 2019 Sciences | 13 | 6 |

National Board Examination pass rates, graduation rates, and employment rates for this and other
ABFSE-accredited programs are available at www.abfse.org.
Career Outlook
The demand for licensed funeral directors and embalmers continues to grow. Graduates of this program have a high likelihood of employment in a variety of locations and work settings.
This Funeral Service degree program is recognized by the Wisconsin Funeral Directors Examining Board.
Possible Careers
Funeral Director
Embalmer 
Admission Requirements
A minimum of 24 college credits in areas specified by the State Board of Examiners are required for admission into the Funeral Service program. See an MATC Community & Human Services Pathway advisor for information.
B- (or higher) required in Business and Natural Sciences courses.
C (or higher) required in General Education courses.
The following are also required for admission:
One year of high school-level biology and chemistry
Scholarships
Accreditation
The Funeral Service degree program at Milwaukee Area Technical College – West Allis Campus is accredited by the American Board of Funeral Service Education (ABFSE). The American Board of Funeral Service Education (ABFSE) – Committee on Accreditation (COA) has reaccredited this program for a period of seven years (through October 2021).
The annual passage rate of first-time takers of the National Board Examination (NBE) for the most recent three-year period for this institution and all ABFSE accredited funeral service education programs is posted on the ABFSE website, www.abfse.org.
For more information about the program, contact: Gabriel Schauf, Funeral Service Program Coordinator, schaufg@matc.edu, 414-456-5320.
This program is accredited by
American Board of Funeral Service Education
992 Mantua Pike, Suite 108
Woodbury Heights, NJ 08097
816-233-3747

QUESTIONS?
Community & Human Services Academic & Career Pathway
414-570-4426, servepathway@matc.edu
Downtown Milwaukee Campus, T Building, Room T200
Mequon Campus, Room A108-110
Oak Creek Campus, Room A121
West Allis Campus, Room 103